Updated: March 19, 2020
For Español click here.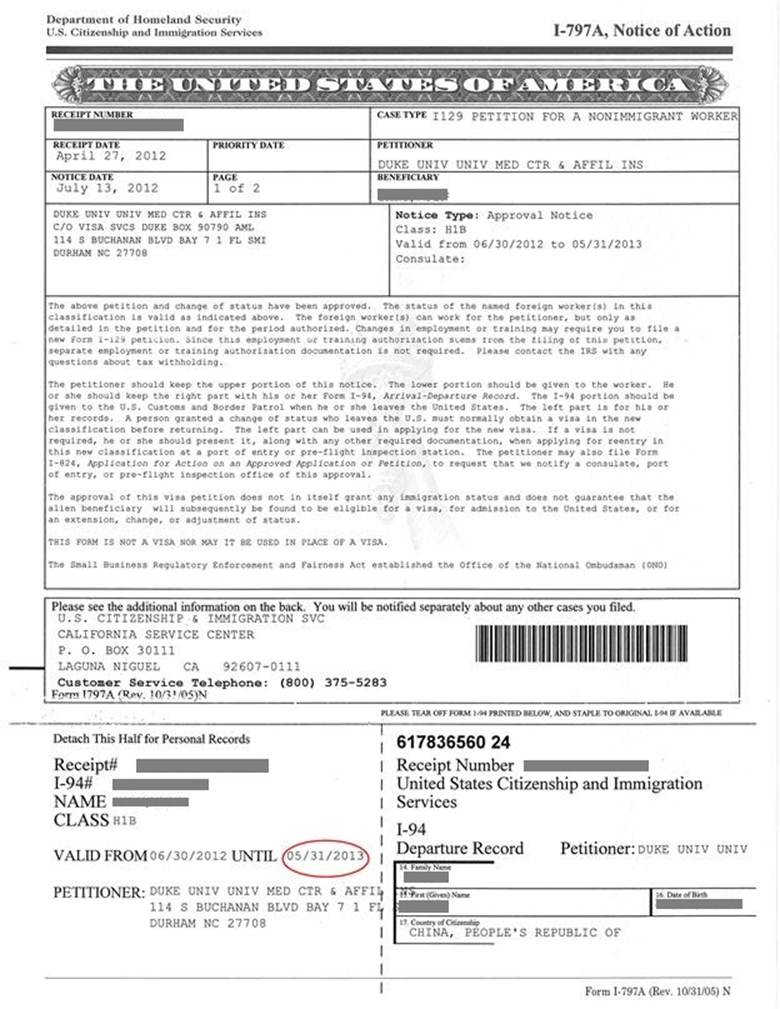 The Form I-797 is a document the United States Citizenship and Immigration Services (USCIS) uses to communicate with applicants.
USCIS will send you Form I-797 about 2-3 weeks after you submit an application to them. The purpose of this form is to notify you that they have received your application.
There are seven different I-797 forms and each serve a different purpose as outlined in this article.
---
1. Receipt Notice
Form I-797, Notice of Action
This I-797 form is simply a receipt informing you that your application or petition has been approved. Note that this is just the receipt, not the official document. Therefore you cannot use this to travel, get a job, etc.
However, the form is still very useful. It gives you information about your application, including your receipt number. Your receipt number is a 13-digit-long code you can use to track your case online. Simply use this USCIS Case Status Checker.

If you lose your receipt number, you can schedule an InfoPass appointment where you'll meet with a USCIS officer who can provide you with information about your case. Make sure to bring valid identification to the appointment.
Make sure to keep a copy of all I-797 forms for your personal records. They can commonly be used as evidence for other USCIS forms you may fill out.
2. Replacement for an I-94 Form
Form I-797A: Notice of Action
Form I-797A Notice of action is sent as a replacement for the Form I-94. This typically means that the change of status has been approved and the immigrant is legally able to stay in the U.S. while a decision is made. Form I-94 can be found at the bottom of Form I-797A and functions as the official document. The body of the document will provide additional guidelines. This form includes the date of admission, the class of admission, and the date to which they are admitted to stay.
To increase efficiency, reduce operating costs, and streamline the admissions process, U.S. Customs and Border Protection (CBP) has automated the I-94 Form. The paper document is only given in limited circumstances. If you need a copy of your Form I-94, you may request it here.
3. Form I-140, Petition for Alien Worker
Form I-797B: Notice of Action
Form I-797B is issued when the applicant submits Form I-140, Immigrant Petition for Alien Worker. The body of the document will include instructions. The bottom section will include important information for admission to the U.S. depending on the applicant's circumstance, like all I-797 forms, this form will include details about your application.
4. Important Information
Form I-797C: Notice of Action
This is perhaps the most common I-797 form. It is very important that you read this document carefully as it usually tells you the next step in the application process. In addition to the regular information, the Form I-797C will inform the applicant of a rejection, transfer, re-opening, or scheduled/re-scheduled appointment.
Typical appointments include a biometrics appointment or an interview with a USCIS officer. If you receive a Form I-797C, pay close attention to what it says. Ignoring or misreading the instructions can delay your case.
5. Includes a Benefit Card
Form I-797D: Notice of Action
The Form I-797D will generally include a benefit card. This could be a green card or another official document. Like the regular I-797 form, you will not need to do anything with this form. However, it is still important to keep a copy for your personal records.
6. Request for Evidence
Form I-797E: Notice of Action
Many USCIS forms require additional evidence. This is called a Request for Evidence (RFE). If the USCIS does not receive all the required evidence in an application, they will send the form I-797E. In this form, they will explain the issues with the evidence already provided or simply state that no evidence was included.
If you receive this form, make sure to read it carefully! The Form I-797E will often include a time limit and specific instructions. If you never respond to a request for evidence, your application will most likely be denied.
Click here for more information about responding to Requests for Evidence.
7. Travel Permit
Form I-797F: Transportation Letter
This is the only I-797 form that is not a "Notice of Action." This document allows overseas applicants to travel. If you receive Form I-797F, simply follow the guidelines provided in the document as they are specific to your case type.