Updated: April 2, 2021
We make immigration easy.
We've been making it easy to get a green card, renew a green card, and even apply for citizenship since our launch in 2015. Today, we're rated the #1 Online Green Card service.
To learn more about our track record, here are a few links:
• Our certified customer reviews – Trustpilot
• Rated #1 2018, 2019, & 2020 Online Green Card Service – Top Consumer Reviews
• The Business that Love Built – Fast Company Magazine
• Featured by the American Bar Association – 2019
Our Guarantee
Your application will come with a 100% money back guarantee. If for any reason your application is rejected by USCIS, we'll refund you 100% your money back AND pay the government fees. All you have to do is fill out this form.
Before you get started
It's a good idea to gather some documentation before you get started.
The following documents are required to be attached to your green card application. Further down, we'll show you how to upload them to your SimpleCitizen account:
Birth Certificates for you and your spouse (or whomever is sponsoring you)
Marriage Certificates (if you are married)
Proof of Residence
Passports
Copies of your Visa
If you don't have all these documents right now, it's ok. You can still get started and we'll help you attach them later. To see a complete list of all the documents you need, please create an account and answer your questionnaire.
Finding the right application with the Eligibility Quiz
In order to make sure you are eligible to apply and that you choose the correct application for your situation, use our free eligibility tool.
If you have questions during the eligibility quiz, feel free to chat with SimpleCitizen support by clicking on the chat icon at the bottom left side of the screen. After you select your application package you will be emailed a link to your new account.
Immigration Attorney Review
With SimpleCitizen, you can have your entire application reviewed by a professional immigration attorney. This will make sure there are no mistakes or missing paperwork in your application. If you would like to talk to an immigration attorney before starting your application, click here to schedule a free consultation.
Starting Your Application
This is the first thing you will see when you login for the first time: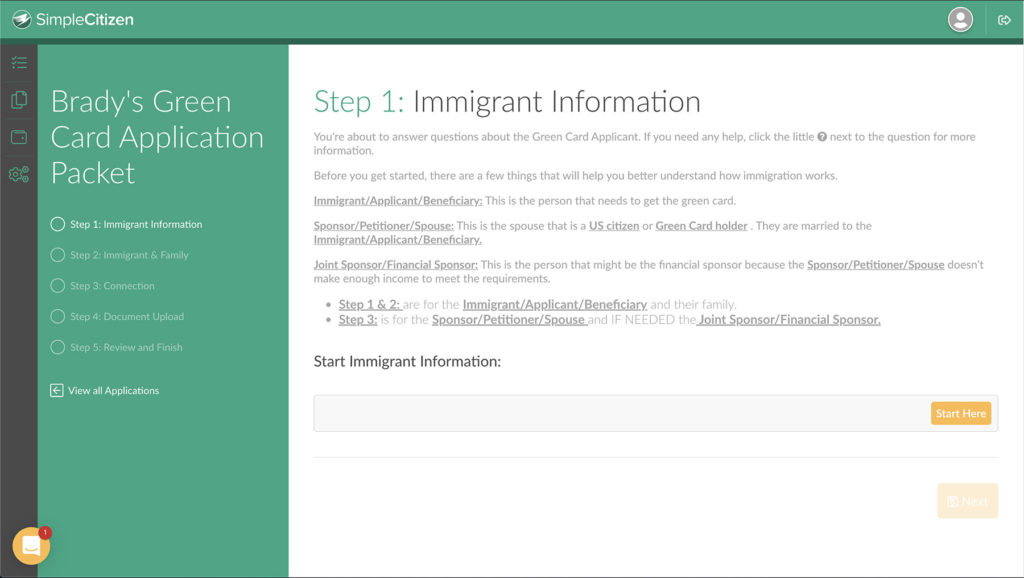 Before answering questions, it's important to understand a few important terms:
The Immigrant, Applicant, or Beneficiary are all the same person. This is the person that needs to get the green card.
The Sponsor, Petitioner, or Spouse is the U.S. citizen or Green Card holder petitioning for the immigrant. For example, in a marriage based green card application, this is the person married to the immigrant.
The Joint Sponsor, or Financial Sponsor. This is the person that might be the financial sponsor if the Petitioner doesn't make enough income to meet the requirements.
If you are having difficulty understanding the different roles and requirements, please reach out to our support team.
To get started on your application, click on the "Start Here" button: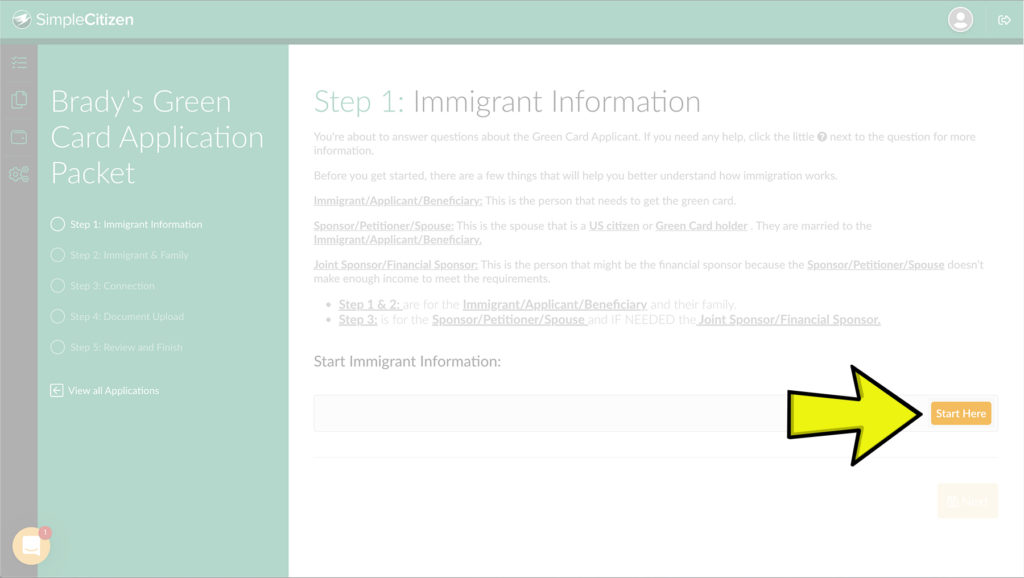 You will then be asked to confirm the Applicant's name: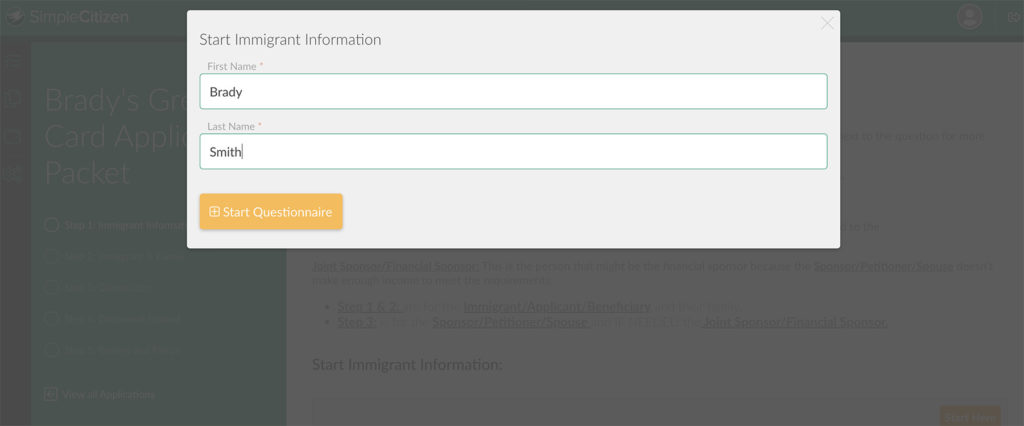 Step 1: Immigrant Information Questionnaire
Here you will be asked various questions about the immigrant/applicant. Please answer all the questions and if you need any help, feel free to chat with our support team by clicking on the chat button on the bottom left side of the screen.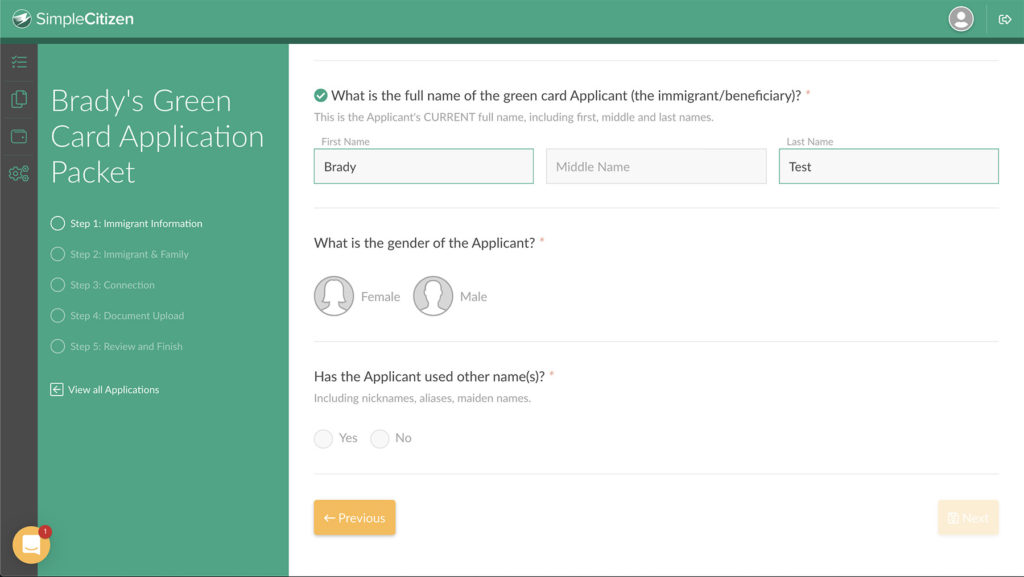 Step 2: Immigrant & Family Questionnaires
Here you will answer a few more questions about the applicant, then you will be asked to provide some information about the applicant's mother, father, and children.
To start each section, click on the "Start Here" button.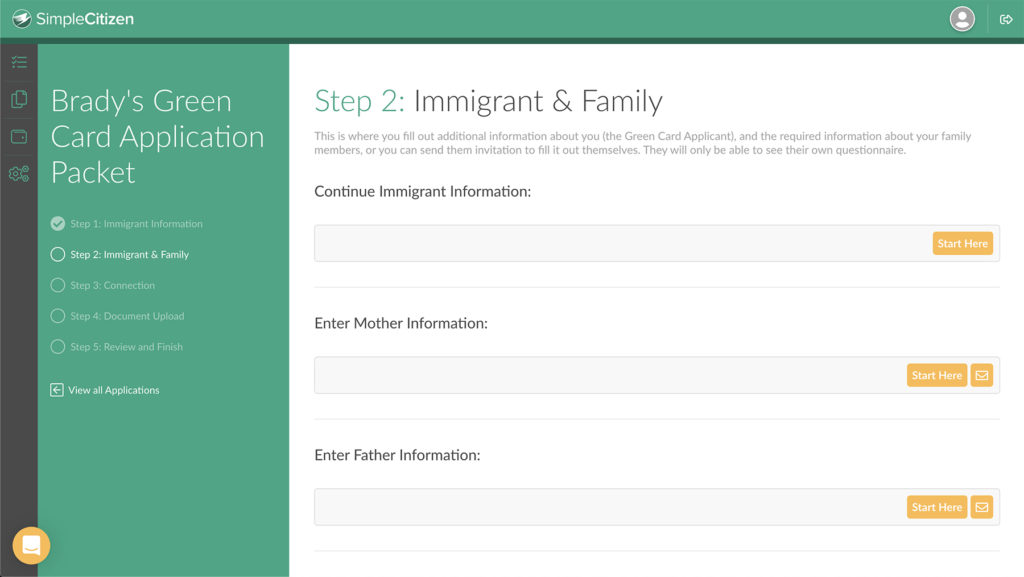 Employment Authorization & Form I-765
If the applicant is planning on working in the United States while waiting for their green card, please answer the Employment Authorization question as "Yes". This will add a completed Form I-765 to final application.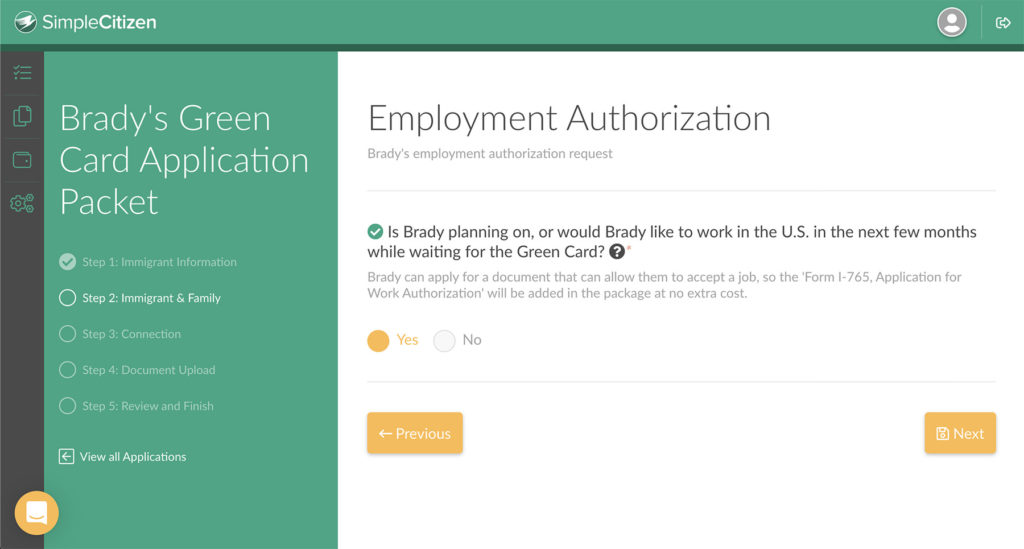 Travel Authorization & Form I-131
If the applicant is planning on, or would like to travel outside the United States while waiting for their green card, please answer the Travel Authorization question as "Yes". This will add a completed Form I-131 to the final application.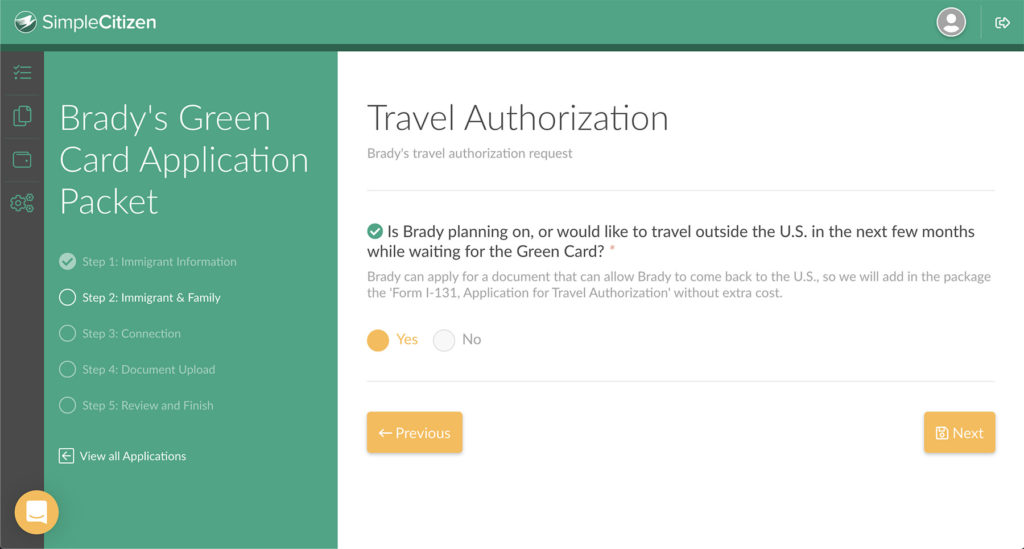 Medical Examination & Form I-693
To apply for a green card, the applicant must complete a medical examination before submitting the final application to USCIS. During this exam the doctor will complete the Form I-693, Report of Medical Examination and Vaccination Record.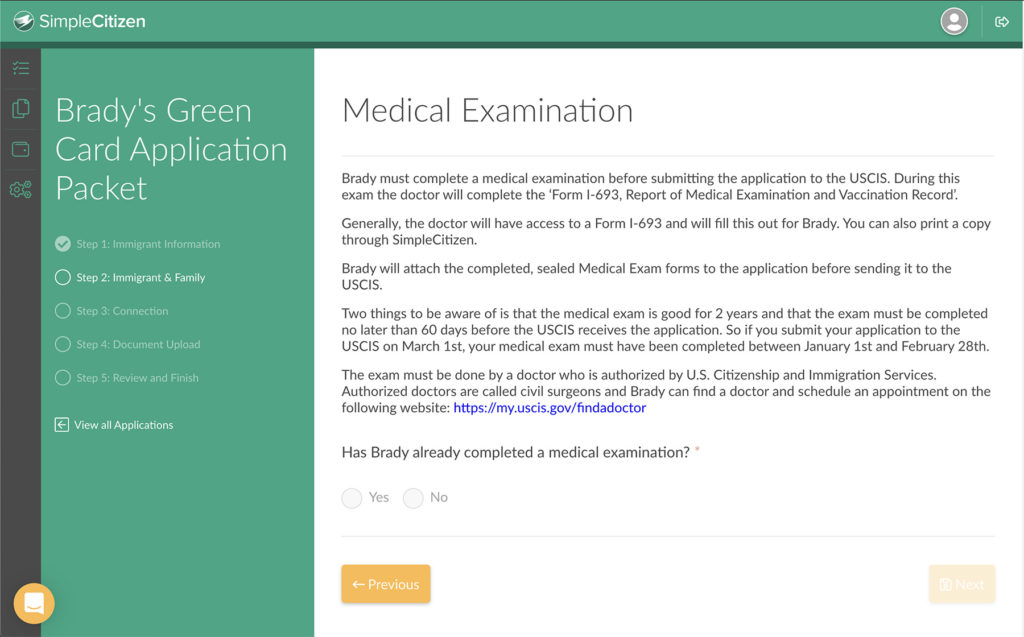 SimpleCitizen will help determine if you need a Form I-693 and help you schedule your appointment. The medical examination is good for 2 years and the exam must be completed no later than 60 days before USCIS receives the application.
If you have questions about the Medical Examination process, please contact our support team.
Step 3: Connection/Spouse Questionnaire
In order to apply for a green card, the applicant must have a direct connection to the United States; an immediate family member (spouse or parent) that is a U.S. citizen/ Lawful Permanent Resident or a child over 21 years old that is a U.S. citizen. This person is known as the Petitioner or Sponsor.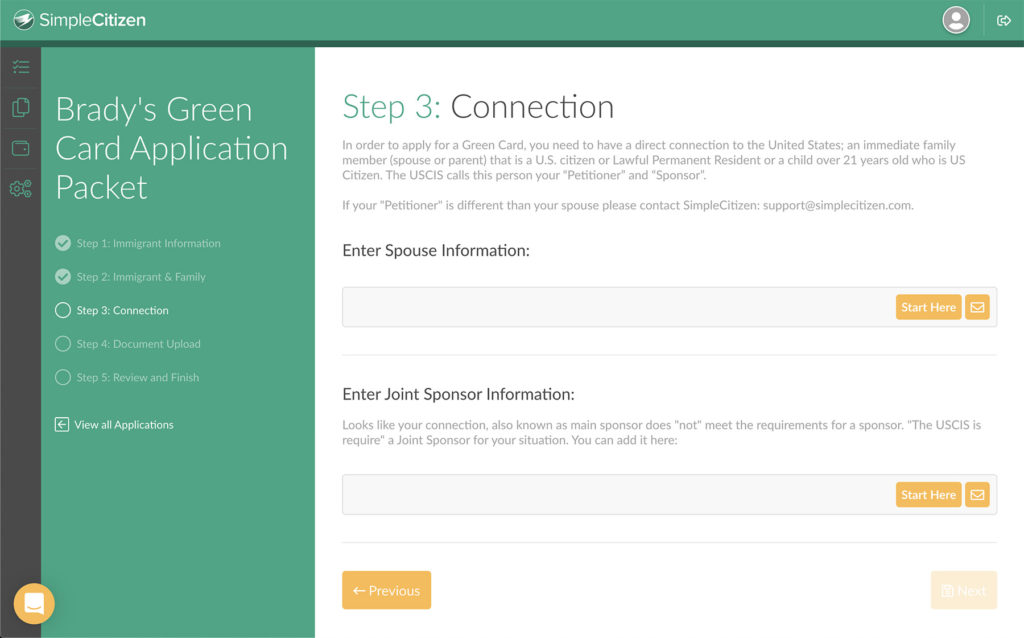 Step 3 is where you provide information about the Petitioner/Sponsor.
Step 4: Supporting Document Upload
Here is where SimpleCitizen helps you upload and attach all the required supporting documents for your application.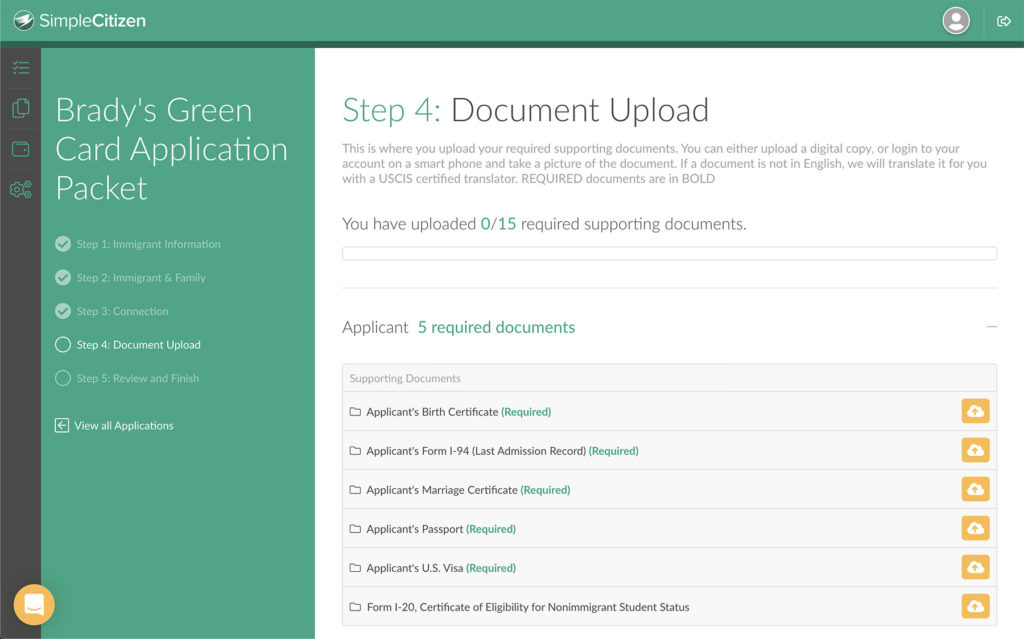 Click on the orange upload buttons to upload each document.
When uploading a document, please indicate the "Document Language" by choosing from the drop down. This will let SimpleCitizen know that the document needs to be translated by a USCIS certified translator. We provide translation services at no extra cost.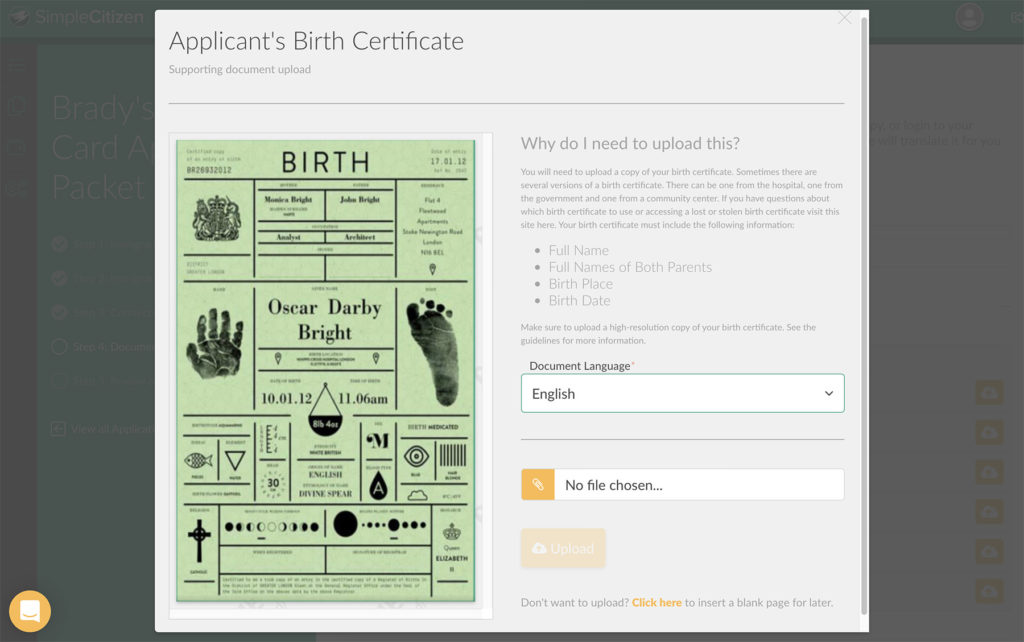 If you have questions or need help with your supporting documents, please chat with or reach out to our support team.
Step 5: Application Review & Finish
Finally, it's time to look over your application and make sure everything is correct.
Here you will be able to see a PDF version of your entire application. Please review the application to check for typos or mistakes. Once you complete your review, clicking "Next" will send your application to our immigration law firm for the final legal review.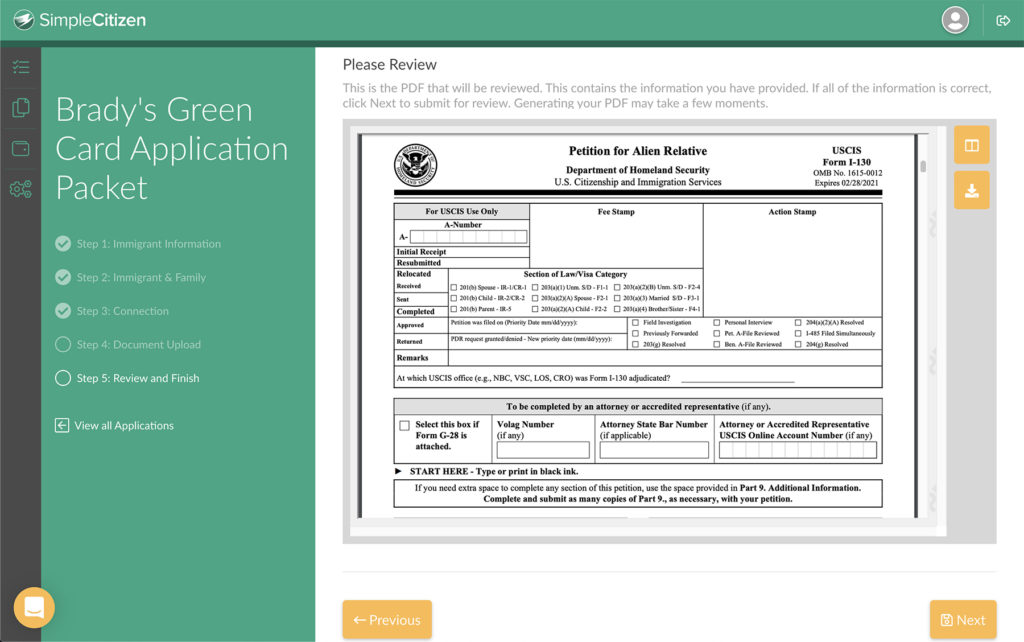 During the immigration law firm review, you will receive email updates to let you know the status of your application or if any changes need to be made.
Application Printing & Delivery
Once the reviews are complete, our team at SimpleCitizen will print and ship the application to you. You will also receive a tracking number so you can track the package.
All you have to do when you get the application is sign the forms (we attach stickers so you know where to sign). We also include a pre-addressed USCIS shipping envelope for you to insert the signed application and place in the mail.
Along with your application, we attach detailed USCIS filing instructions so you'll know exactly what you need to do and how to do it.
As always, if you ever need any help, please reach out to our support team. We're here to help!