The Form I-765 is a request for an Employment Authorization Document or EAD, which is more commonly known as a work permit.
If you will be in the U.S. temporarily and will need a job, you will likely have to file an EAD. Your "work permit", as you can see below, will be a standard wallet-sized card with some basic information including your picture, full name, alien registration number, terms and conditions of your permit, and the expiration date.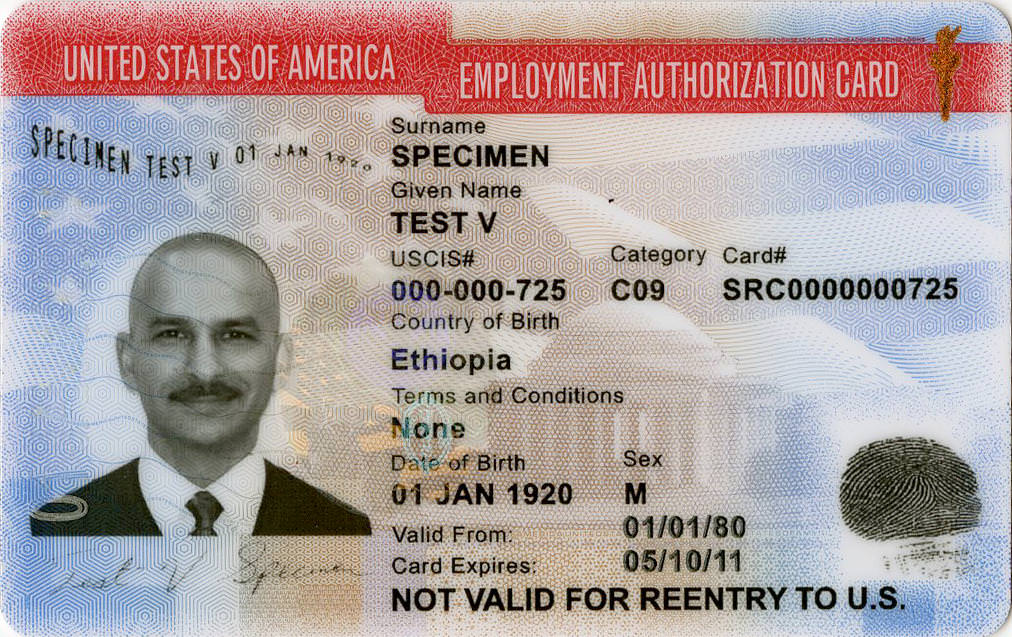 Be careful not to get this confused with a green card. A green card is evidence of your status as a Lawful Permanent Resident. An EAD may be obtained while your green card application is processing. This allows green card applicants to legally work before actually becoming a Lawful Permanent Resident. The EAD will also be used for temporary foreign workers who come for seasonal work or short term work assignments.
While the form is only 2 pages long, it comes with 18 pages of instructions. This form can be complicated. One of the most difficult parts of the I-765 is identifying which category of eligibility you are filing under. Consequently, the most common reason an I-765 is rejected is misidentifying eligibility. This article gives a brief outline of the I-765. 
What is the purpose?
The EAD is proof of employment authorization. Immigrants who are eligible to work may file form I-765. Once approved for EAD, the applicant will obtain the identification card, which they can then use it to obtain employment. If you have previously filed this form but have lost your EAD or need to renew it, you should also file form I-765.
Who should (and shouldn't) use this form?
Question 16 of the form will ask you to identify how you are eligible for work authorization. It asks you to select from one of the following 8 sections of eligibility:
Asylee/Refugee and their spouses and/or children
Nationality categories
Foreign students
Eligible dependents of diplomatic missions, international organizations, or NATO.
Employment-based nonimmigrant categories
Family-based nonimmigrants
Adjustment of status categories
Other categories
Within each section there are more specific sub-divisions. In order to accurately select your respective catagory, visit this USCIS page with I-765 instructions. These instructions will provide you with greater detail about each category.
If you fall into any of these three categories, you should NOT use this form: 
Lawful permanent resident
Conditional resident
Nonimmigrant with specific employment authorization through form 8 CFR 274a.12(b).
What is the filing fee?
The standard filing fee is $410. However, if you fall under one of the following circumstances, you will also be charged an $85 biometric services fee (for a total of $495):
Your employment-based immigrant petition has already been approved and you are facing compelling circumstances.
You are the spouse or unmarried child of someone whose employment-based immigrant petition has already been approved and they are facing compelling circumstances.
Outside of those circumstances, you will not have to pay the biometric services fee. In fact, some applicants may be completely exempt from paying these fees. Check the specific filing instructions (the link is above) and check the section labeled "What is the filing fee?" beginning on page 15 to see if you qualify.
Will the fee be waived if I also file form I-485?
Yes! If you previously filed form I-485 (Application to Register Permanent Residence or Adjust Status) as of July 30, 2007 AND you paid the associated filing fee, you are exempt. 
If you are filing these forms together, you will not need to include proof that you paid the I-485 fee. 
If you have already filed Form I-485, be sure to include a copy of Form I-797C (Notice of Action) when filing form I-765 as a receipt to show you have already paid.
Important notes
You MUST use the 01/17/17 edition date form or else it will not be accepted.
Make sure you select the correct eligibility category for your situation in Question 16. If you have any questions, don't hesitate to reach out to us at SimpleCitizen for more help!
Check to see if your catagory of eligiblity requires more documentation. Be sure to include it if it does!
Ways to fill out the Form I-765
---
Helpful Links
The Ultimate Guide on How to Get a Green Card
What is the Form I-765 filing fee?
Immigration Discussion Board