In April 2017, the Trump administration stated that it will continue to uphold the 2002 executive order that facilitates the citizenship process for noncitizen military members.
Those persons serving honorably in active-duty status in the Armed Forces of the United States at any time on or after September 11, 2001 are eligible to apply for naturalization in accordance with the statutory exception to the naturalization requirements, as provided in section 1440(b) of title 8, United States Code.
– Executive Order 13269 signed by President George W. Bush on July 3, 2002.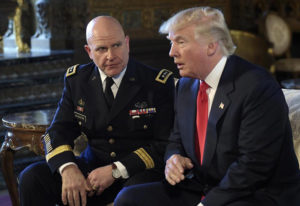 Recently however, among Trump's several regulations aimed at tightening immigration, the Department of Defense released two updates that affect noncitizen individuals entering the military and those who are currently serving with noncitizen status.
The Washington Post also reported that the Army is turning away people or putting on hold those who wish to serve based on their immigration status.
Voices across the Internet immediately responded with heated criticisms to the announcement. One online critique said that the move is potentially unlawful and founded on biases. Another wrote about how immigrants ought to be thanked for their service and recognized for their dedication because these men and women are putting their life on the line for the "vast majority of us who never put on uniform."

Trump's immigration policies cause enough controversy no doubt, but more recent news regarding the president offending a fallen soldier's wife, combined the two topics for a perfect storm.
With Trump declaring a ban on something new everyday in a world filled with alternative facts; It's safe to say we would be wise to learn the truth and double check the news we read.
So the question still stands. Is it possible to apply for Citizenship while serving in the military? Let's find out.
Updated Military & Immigration Policies
As of October 13, The Department of Defense released two updates:
1. Updated Screening For Lawful Permanent Residents.
The DoD requires all military recruits who are legal permanent residents to go through a thorough background investigation. These individuals should receive a favorable military security suitability determination (MSSD) report before any participation in the service, whether active or on reserve.
The change overthrows previous policy which states that as long as such an individual initiated his or her background check and if he or she had cleared other designated entry screenings, he or she may begin military training.
2. Changes to the Expedited Naturalization for Military Personnel.
In order to proceed to naturalization, noncitizen recruits are required to complete at least 180 consecutive days of active service in the branch of the military they are serving, or they must receive a satisfactory evaluation in their selected reserve for at least one year.
The Department of Defense stated in this news release that the set probation period is aimed to eliminate the "one day service" occurrence where recruits serve for a brief period, just enough to obtain the certification of honorable service for expedited naturalization.
How to Apply for Citizenship in the Military
Typical naturalization process from permanent resident status requires the individual to have lived in the United States consecutively for at least three to five years. However, for members of the Armed Forces (that includes anyone in active duty, on reserve, or in the national guard), they may file for naturalization within one year of their military service.

This section in the Immigration and Nationality act of 1952 (INA) also excuses these applicants from having the required period of residence or physical presence within the United States. Lastly, USCIS offers the benefit of waiving the application fee for those who fulfilled an honorable service.
What are the Requirements?
Legal Status: Lawful Permanent Resident (Green Card Holder)
Noncitizen recruits must be lawful permanent residents while they're applying for naturalization. Any other immigration status is currently not allowed to enlist.
Candidate's Moral Character: Good Moral Standing
The U.S. Citizenship and Immigration Services (USCIS) look at two main components to determine a candidate's moral character.
First, his or her criminal record.
When filling out the application for naturalization: Form N-400, the candidate should report all crimes committed, including those that occurred before his or her 18th birthday and/or those that have been removed from record.
Second, they look at the candidate's honesty during their interview with the officer who oversees the candidate's naturalization process.
USCIS has the rights to conduct further background checks. If they find inconsistency between the candidate's response during the interview and the background check, they have the right to reject the application.
Language: English Proficiency
All naturalization candidates should have the ability to communicate in English both in writing and speaking. The law requires them to demonstrate their language proficiency in simple phrases for ordinary usage.
American History, Law, & Government: Civics Test
Candidates should also acquire knowledge and understanding of basic American history, common principles of law, and forms of government.

Where Do I Apply for Citizenship?
Because military candidates may move physically throughout the application process, every military branch has a designated personnel and/or a department for handling applications. Different military divisions have different designations. For a list of different contact points, see below:
The Department of the Army:
Battalion (BN), Brigade Combat Team (BCT) S-1s, Personnel Services Battalion (PSB), Personnel Service Centers (PSC), Military Personnel Divisions (MPD), and Military Personnel Offices (MILPO) are all available points of contact. Each of them has the capacity to coordinate with the U.S. Army Human Resources Command (USAHRC) to facilitate the application process.
The Air Force:
Military Personnel Flights (MPFs), or applicants may also complete documents online through virtual Military Personnel Flight.
The Navy:
Naval candidates who are seeking naturalization should establish a citizenship representative through the program NAVADMIN 251/04. At this time, the Navy SEAL is not accepting noncitizen applicants.
The Marine Corps:
A Legal assistance officer is the designated representative within the Marines. 
When to Apply for Citizenship
Noncitizen recruits may apply anytime either during their enlistment or after they have fulfilled their service. However, the recent changes, as mentioned above, delay noncitizen recruits from applying while in training due to background check time.
How to Prepare my Citizenship Packet
Make sure to always use the most up-to-date USCIS forms. You may receive your application packet through your branch's citizenship representative, request it from the USCIS, or use SimpleCitizen's online Citizenship Software.
Please be advised that your application officer during the interview may ask you questions regarding information on your forms. Always stay consistent and be as clear and detailed as possible with the information you provide.
Once you have gathered all the required documents, translations, and passport photos for the N-400; bring everything to your branch's designated point of contact for naturalization. Your representative will verify your application and complete the Request for Certification of Military or Naval Service form. Your branch representative or commander has the authority to indicate your characterization of service, and deem whether or not your service was honorable if you were being discharged.
Your representative will then mail your application packet to USCIS.
What happens after Submitting Form N-400
First, you will receive a letter with the Form I-797 from the USCIS with your case status number. You can use this number to track the progress of your applications. The letter usually arrives within the first two to three weeks.
Second, you need to go to your biometrics service appointment. Your branch's military citizenship representative has the authority to schedule this appointment with the nearest USCIS facility. The same representative must fill out a Fingerprint Notice and you will take this form with you on the date of the appointment. If you are physically overseas, then you should contact the nearest military police unit or security manager. They will send you FD-258 fingerprint cards where you may fulfill a set of dark and a set of clear fingerprints.
Third, after four months or so. You will be notified of your interview date. This will include the place and specific time of your appointment. If you are unable to attend your interview on the appointed date, you may write on the interview notice your reason for why you cannot attend and the next availability. For example, if you are unavailable due to deployment, then you should attach the deployment order with the notice as you return them to the USCIS.
Note: You may ask your representative to follow up with the USCIS if the receipt (I-797) did not come within 60 days of your application being mailed. You may also follow up with him or her if you don't receive your interview notice within five months.
Fourth, Your interview officer may give you one of these three decisions: granted, continued, or denied. In some cases, the officer may tell you if you will be granted your citizenship at the end of your interview. In most cases, you will receive a formal notice stating when and where you will attend the oath ceremony. If you've been told that the officer is continuing your case, then you may be asked to come back for a second interview or to provide the missing documents. If your form was denied, USCIS will send you a written notice stating why. You may request a hearing from the officer who denied your application and you may file an appeal with the Form N-336.
Lasty, is the Oath Ceremony. Here, you will take the Oath of Allegiance to the United States.
Congratulations!