Since the birth of this nation, marriage was a right reserved for heterosexual couples. Gay couples, no matter their love and dedication to one another, had no legal right to marry or reap the benefits that came with marriage — including the ability to petition the U.S. government for legal permanent residency for an immigrant partner.
Two landmark Supreme Court rulings changed that:
United States v. Windsor
June 2013
From Wikipedia, the free encyclopedia
Enacted in 1996, the Defense of Marriage Act (DOMA) was a federal law that limited federal marriage benefits and mandated that only opposite-sex marriages need be recognized between states. So even if one state legalized gay marriage, that union would not be recognized at a federal level or in states where gay marriage was illegal.
On June 26, 2013, the U.S. Supreme Court ruled that Section 3 of DOMA — which defined "spouse" as only applying to marriages between a man and woman — was unconstitutional. This entitled married same-sex couples to the same federal benefits as opposite-sex married couples.
---
Obergefell v. Hodges
June 2015
From Wikipedia, the free encyclopedia
However, states that had a ban on same-sex marriage were still not required to recognize a marriage performed in a state that had legalized it. This changed with Obergefell v. Hodges, in which James Obergefell sued to be listed on the death certificate of his late husband, whom he married in Maryland after Windsor. The state of Ohio, where the couple lived, refused to recognize the marriage performed in Maryland.
On June 26, 2015, the U.S. Supreme Court ruled that states cannot keep same-sex couples from marrying and must recognize their unions, stating that the 14th Amendment of the U.S. Constitution grants same-sex couples "equal dignity in the eyes of the law."
What do these two historic rulings mean? The implications are huge, but we'll confine our discussion to how it impacts immigration issues. And this is what it means:
Married same-sex couples can now apply for a family-based green card, same as opposite-sex couples can.
Groundbreaking…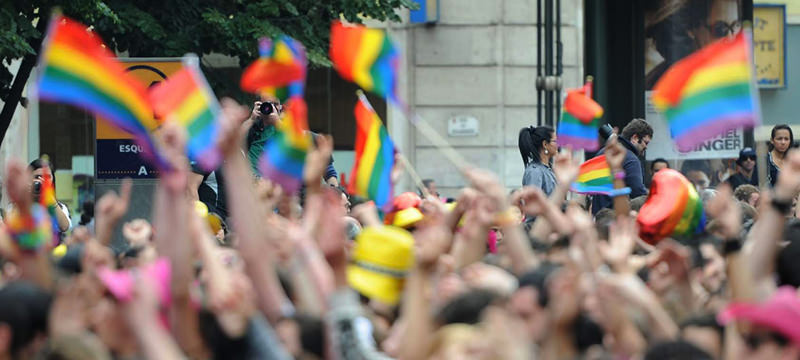 Can I Petition for my Spouse to get a Green Card?
Yes! By all means, file the petition, Form I-130, and any related applications. Your ability to get a green card for your spouse will be based on U.S. immigration law, not your status as a member of a same-sex marriage.
How Do I Petition for my Spouse?
In the same way that an opposite-sex married couple would. You'll need to:
Get married. Perhaps this is obvious, but to qualify for a family-based green card, you must be legally married. If the two of you are not married AND you are a U.S citizen AND your foreign-born partner is overseas, you may file for a K-1 Fiancé Visa, a nonimmigrant visa that permits your fiancé to come to the U.S. to marry you (you must marry within 90 days of his/her admission to the U.S.).
File Form I-130. Also known as the Petition for Alien Relative, this is the form you file to establish your relationship to a spouse who wishes to immigrate to the United States. Note: You must be a U.S. citizen or lawful permanent resident to petition the U.S. government for a green card for your spouse.
This article has more information about what happens after you submit Form I-130.
Are there any extra steps we have to take?
More than what a married opposite-sex couple has to do? No. But getting a green card is a long, complex process, so try to be patient. SimpleCitizen can guide you through the steps and help answer your green card questions. Our software acts as a step-by-step wizard that walks you through the necessary questions to complete your green card application.
Is the Cost (Government Fees & SimpleCitizen) the Same?
>> Prepare a Green Card Application
Filing alone. USCIS charges a $535 fee to file the I-130. Additional forms may have additional filing fees; these are set by the federal government and cannot be lowered or waived. Outside these regular filing fees, there are no additional charges to apply for a green card when you file without help.
Filing with SimpleCitizen. However, you're also stuck navigating the green card application process alone, which can be more than a little overwhelming (just ask anyone who's tried it). When you use SimpleCitizen, our platform takes you through every question of the application step by step, and our friendly and helpful support team can help with any questions. When you're all done with the forms, we'll print and mail them to you — you simply sign and mail them to USCIS. Our application preparation fee is $249. For an additional $99, you can have your application reviewed by one of our professional immigration attorneys.
What About Preparing for the Interview?
>> How to prepare for an adjustment of status interview
Nothing more than what an opposite-sex couple would have to prepare. The process will look like this:
Several months after you submit your application, USCIS will notify you by mail of your interview appointment.
Both spouses must attend the interview.
Bring the originals of the documentation that you submitted with Form I-485, Application to Register Permanent Residence or Adjust Status.
Be prepared to discuss the history of your relationship, such as where and how you met, the circumstances surrounding your developing relationship, who proposed to whom and why you decided to get married. The USCIS officer will likely quiz you on these things to get a sense of the credibility of your marriage.
"As members of the LGBTQ community, we found our experience going through the immigration process to be pretty serene, overall. The process was not as scary as we thought it would be. We would not have been able to do it without you! We will forever be grateful to SimpleCitizen and their amazing people. Thank you, for your alliance, and for being on the right side of history!"
– Ace from Mexico
>> Read more SimpleCitizen customer success stories.
>> Start your green card application today!
Are you eligible to apply for a Green Card?
Are you currently living in the United States?
Have you lived in the US for more than 3 months?
Did you enter the United States with an active visa or green card?
Are you married to a US citizen?
Do you have an immediate family member that is a U.S. Citizen or is a Green Card holder?
Analyzing Eligibility
We're sorry.
You are probably not eligible to apply.
If you would like to apply for a Green Card, instead of a Renewal, we can help you.
Congratulations!
You are eligible to apply for a Green Card with SimpleCitizen!