One of the most common comments we hear is how much our customers love the ready-to-mail application they receive after using our service. Our goal of simplifying the immigration process extends beyond helping you fill out your immigration paperwork. Our print and assembly team works hard to help make the USCIS submission process a breeze as well. Wondering what that entails? Let's take a look through what you can expect in your finalized application!
USCIS Forms 

You will receive your entire USCIS application bound and organized. Depending on your application type, this application typically ranges from 150-600 pages. In addition, you will find "Sign Here" sticker labels on each page that requires a signature, showing you exactly where you or any other signer should sign and date.
Instruction Packet
One of the most important items you will find in your application is the detailed instruction pamphlet that, along with the additional resources listed below, helps guide you step-by-step through preparing your physical application for USCIS submission. These instructions help take the guesswork out of the final steps and include important information about different rules and requirements.
Thank You Card and Signature Guide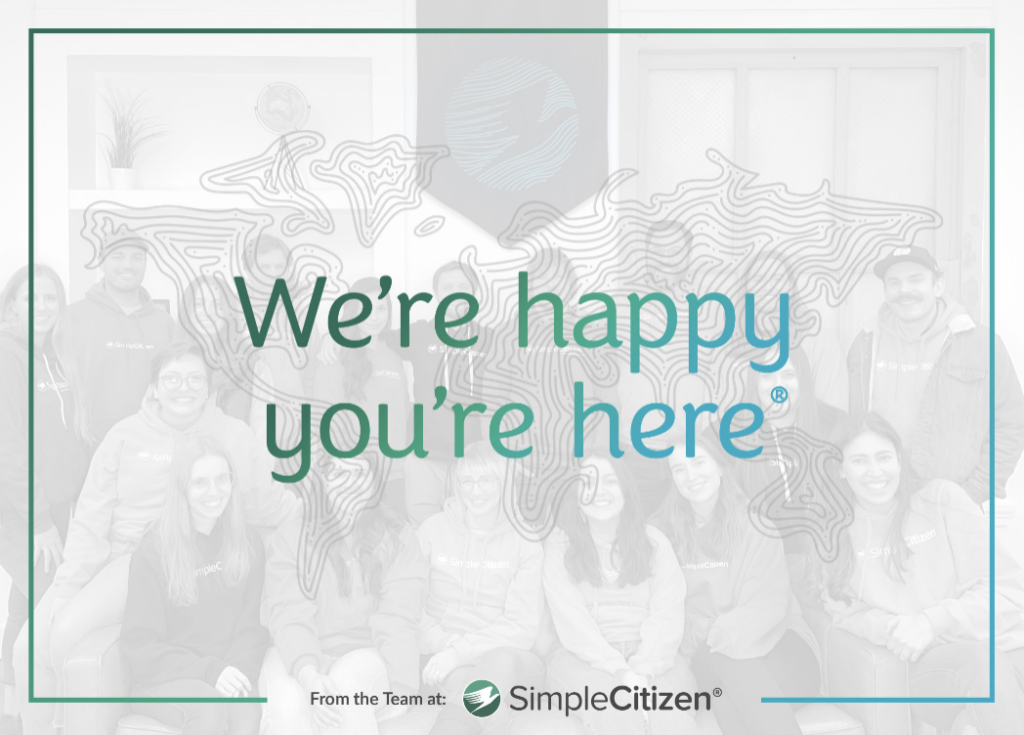 Here at SimpleCitizen, we are truly happy you're here! One way we demonstrate this is by including a hand-signed thank you card! On the back of this thank you card, we have included a signature guide indicating which person is assigned to each color of the "Sign Here" signature labels. That way, you can ensure that the correct person signs each page! We even include a black-ink SimpleCitizen pen so you can sign and date the forms using the color of ink required by USCIS!
Passport-Style Photos
Many USCIS applications require that petitioners and/or beneficiaries add passport-style photos. For applications that require them, we provide sample photos to show the size and specifications of the photos so that they meet the USCIS requirements. Don't forget to check the instructions packet for additional guidance on USCIS requirements for passport-style photos!
Sample Check(s)
Our sample checks are the perfect guides to show you your application's USCIS filing fee(s). Also, if you choose to pay via credit card form or money order, you can find additional information in the instructions packet. Please note, do not send the enclosed sample checks to USCIS. They are for informational purposes only.
Pre-addressed Envelope to USCIS
Depending on the application type, connected forms, and place of residence, USCIS has various lockbox facilities that process applications. We know it can feel overwhelming to research where your application should be sent, so we provide a pre-addressed envelope you can use when sending your application to USCIS. Please note we recommend shipping your application to USCIS using a method that allows you to track and confirm delivery.
Want to ship with USPS? Open your instruction packet for a QR code that links to the USCIS addresses specific to USPS shipments!
We can't wait to help you get your application sent to USCIS! Reach out to us today if you have any questions about your application process. We're happy you're here!