While many have voiced their opinions in the debate of whether or not the 'American Dream' still exists today, there are at least three foreign-born million/billionaires who seem to be enjoying the highest rewards fame in the United States can offer: Elon Musk, Shahid Khan, and Arianna Huffington.
Elon Musk: from Pretoria, South Africa to Ontario, Canada to Bel Air, California

Elon Musk was born in Pretoria, South Africa on June 28, 1971 to a South African Father and Canadian mother. Ever since he was a young boy, Elon was interested in computers and spent many hours teaching himself how to program, having developed his first software sale at the age of 12 – a game called Blastar, that he sold the source code to the magazine, PC and Office Technology for $500.  As a bright child with a passion for technology, America seemed to be the most logical dream. Perhaps this was reinforced by Elon's strict father, who his sister, Tosca, recalled having made up a game for the children called 'America, America', where they would have to do everything an American child would do. Having divorced Errol Musk when Elon was 10 years old, Maye Musk believes that being a single mother instilled an ethic of hard-work in each of her three children. In an interview with Vanity Fair, Maye Musk attributed this to the fact that her children needed to take responsibility for themselves at a very young age because she needed their help.
Five years later, Musk moved away to Canada as a freshman at Queen's University under the assumption that it would be easier to obtain American citizenship as a Canadian immigrant than as a South African immigrant. The timing of his move also allowed him to avoid mandatory service in the South African military. Musk obtained Canadian citizenship through his Canadian-born mother but soon transferred to the University of Pennsylvania where he received degrees in both economics and physics. Elon Musk then decided to move across the country to northern California, with the intention to pursue a Ph.D. in energy physics at Stanford University. His time at Stanford was short-lived, just two days to be exact, as the internet boom in Silicon Valley quickly lured him away from his studies and into the launch of his very first company, Zip2Corporation.
Musk sold Zip2Corporation in 1999 for $307 million in cash and $34 million in stock options and in the same year co-founded an online financial services and payments company named X.com, that subsequently led to the creation of PayPal.  Musk's second real business endeavor was sold to eBay for $1.5 billion in 2002.  Musk is more recently known for his third and fourth companies, Space Exploration Technologies Corporation and Tesla Motors.  SpaceX is now valued at $21 billion and is considered one of the most valuable privately held companies in the world.  Tesla Motors has been equally impressive in its industry, recently estimated to have surpassed GM as the most valuable U.S. automaker.  In 2002, Elon Musk took the oath of American citizenship in a ceremony that he referred to as "actually very moving." 
Shahid Khan: from Lahore, Punjab, Pakistan to Champaign, Illinois to Naples, Florida

Shahid Khan's estimated net worth is $7.2 billion – quite different than the $500 with which he arrived to the United States. He arrived in the U.S. from Pakistan at age sixteen.  His father was an entrepreneur and a lawyer.  Having received some money from his paternal grandfather, he opened a law school and began a small business which provided enough to buy Shahid a plane ticket to America. When he got off at his bus stop, he found a room for $8 a night, but finding that to be too expensive, he asked around until he was pointed to the $2 a night YMCA, where he headed in a powerful blizzard in his run-down shoes.  That was Shahid's first experience with snow.
Shahid attended the University of Illinois Urbana-Champaign, where he washed dishes at $1.20 an hour to pay for all of his school-related expenses. At the time this was more than 99% of the people in Pakistan.  Several interviews with Shahid show that he never intended to become a billionaire, he was just trying to improve his future by attending an American university.  Khan was eager to adapt as quickly as he could to the American culture and started by signing up for fraternity rush and joined the Beta Theta Pi house – a very selective and traditionally all-white Anglo Saxon Protestant community. With his fraternity brothers, Khan learned to love football and basketball instead of his familiar pastimes like rugby and cricket.  Originally interested in architecture, Khan switched to an industrial engineering major after his first year in hopes of a more lucrative career.  As a student, Khan began working part-time at an automotive manufacturing company called Flex-N-Gate, and upon graduation, he was offered the position of engineering director for the entire company.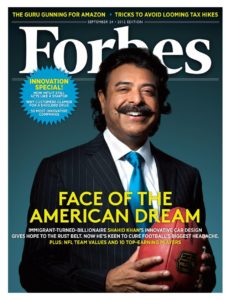 Working in the automotive industry gave Shahid the idea for a new and improved one-piece truck bumper that would improve structural support while at the same time cut down on weight – what has now become the industry standard. This innovation led to him leaving Flex-N-Gate in 1978. With a small loan from the Small Business Administration, He created his new company, Bumper Works. It soon grew large enough to acquire Flex-N-Gate from Khan's former employer.  He is now the proud owner of the NFL Jacksonville Jaguars team.  Shahid Khan is one "rags-to-riches" story that includes a lot of giving back to the Midwest community he loves. Khan has bought the University of Illinois Urbana-Champaign a tennis center, donated to their entire athletic department, spent tens of millions on academic buildings, and lent them his plane for recruiting purposes.  In honor of the place that housed him on his first night in the new city, the YMCA received more than $1 million. 
Arianna Huffington: from Athens, Greece to London, England to New York City, USA

In February of this year, Arianna Huffington boldly tweeted: "I am an immigrant, and my story is the American Dream #ThisIsAmerica". Her story began in Athens, Greece as Arianna Stassinopolus. Early on, Arianna had a dream to attend Cambridge University.  Her family had no money and she lived in a one-bedroom apartment, with her mother and sister.  When Arianna would express this ambition, her neighbors and even her father would laugh. Arianna's mother, however, was unfailingly supportive and would always try and figure out a plan to make it work. Arianna received a scholarship and attended Cambridge at the young age of sixteen.
She thought she would remain in England but eventually moved to the U.S. Her Greek accent was quite strong. For a while, she tried very hard to get rid of her accent, feeling uncomfortable that it always made her stand out.  Now, however, Arianna embraces these differences as an important part of her identity and is proud of the role immigrants have played in America's birth. A nationally syndicated columnist, radio host, politician, and author of 15 books, Arianna is perhaps best known as the co-founder and editor-in-chief of the Pulitzer Prize-winning Huffington Post, which was sold in 2011 to AOL for $315 million, of which she reportedly pocketed more than $21 million. Arianna Huffington was named No. 70 on Forbes' 2016 Most Powerful Women list, and at age 66, she became Uber's first female board member and works as the CEO of Thrive Global, a company she recently founded last year.
I am an immigrant, and my story is the American Dream #ThisIsAmerica @glblctzn https://t.co/zWtinMME1B pic.twitter.com/a8wVXXEBtr

— Arianna Huffington (@ariannahuff) 24 de febrero de 2017
All Three Immigrant Entrepreneurs Have Expressed Opposition to Donald Trump's Immigration Ban
While each of these individuals have led very different lives and have found joy and success in very different industries, there's a common thread of resilience and energy found in the life histories of all three. Another commonality is that although in different timelines and with varying degrees of severity, all three immigrant entrepreneurs have expressed opposition to Donald Trump's immigration ban.  In an interview with the New York Times, Shahid Khan referred to it as "kind of a sobering time for somebody like me".  In February, both of Elon Musk's companies, Tesla and SpaceX signed on to a legal brief supporting a lawsuit against the executive order on immigration and refugees and repeatedly announced his hopes to advise the president on this issue. Arianna Huffington, chose to speak out via social media, posting a picture of herself in a white t-shirt with the words "I am an Immigrant" shortly after the news broke. It seems that no matter how long or how successfully an immigrant has been navigating American culture or business, there can be no turning their back on their roots and the many individuals around the world who look to them, full of hope, for what "could be".