For immigrants of all religions, ethnicities, and wealth, entering the US is just part of a path to the American Dream, and the summit of that path for many is owning a home.
Many immigrants are already homeowners, although the proportion of immigrants that are homeowners is significantly lower than the proportion of native-born homeowners. About 42 million foreign-born immigrants reside in the US — this includes all people in the US that were not born here. Of this population, about 40 percent are homeowners, based on an analysis of 2010 census data. Of the native-born population, 66 percent are homeowners.
This guide will explain how to reach the summit of the American Dream: Owning a home.
How to Buy a Home as an Immigrant
The formal process of buying a home as an immigrant isn't much different from buying a home as a native-born citizen. However, getting a loan can be much more difficult for immigrants. This is a result of structural discrimination against immigrants in the house-buying process. Immigrants' financial profiles don't look like a regular homebuyer's profile and as a result, immigrants are usually marked as more high risk by loan services. Although this does make the process more difficult, it is remedial. The government and specialized financial institutions can help an immigrant buy a house.
We'll break down the basic steps in the house buying process, provide useful resources, and discuss how it can be different for immigrants.
Click here to speak with a government housing counselor.
1. Determine how much you can afford to spend on a house
This brings us to our first distinction: many immigrants prefer to pay cash for a house, whereas some will use a mortgage.
Americans are generally more comfortable with a higher debt-level than other nationalities. Many immigrants will simply save up over the years the money to buy a house. This could take a while since the average cost of a home in 2018 is $228,000. The American norm is to use and build credit for purchases but going cash-only is certainly an option — even in the US about 7 percent of the population is "unbanked." And it may be worth it. Getting a loan can be difficult as an immigrant.
The rest of this guide will focus on immigrants seeking to buy a home with financing.
If an immigrant is seeking financing, then how much he can afford to spend on a house depends on two factors:
How much a lending institution will loan to him, and
How much the immigrant is willing to spend.
So the first factor hinges on how big of a loan he can obtain, the second factor hinges on how much he actually wants to spend on the house. Many people find it best to purchase a home below their full buying potential.
A mortgage is a money loan for the purpose of buying a house. A mortgage payment consists of four components: principal, interest, taxes, and insurance (PITI).
Generally, a buyer can afford to finance a property that costs between 2 and 2.5 times their income. So, for example, an immigrant earning $100,000 a year can afford a mortgage of $200,000 to $250,000.
So, if a prospective immigrant homeowner is willing to buy a house that costs 2.5 times his income, how much he can actually spend still depends on how much an institution will lend him. And this is where it gets tricky.
Lenders will consider various factors when determining how much to loan a buyer:
Gross Income – this the how much you make before income taxes and includes bonus income, part-time earnings, self-employment earnings, Social Security benefits, disability, alimony and child support.
Front-End Ratio – this is the percentage of your gross income that you can put towards your mortgage each month. Lenders usually keep this number below 35 percent of total income.
Back-End Ratio or debt-to-income ratio (DTI) – this is the percentage of your income needed to pay off your other debts, like credit card payments, child support, and other loans. Most lenders won't let this number exceed 36 percent.
Credit Rating – this is the number credit companies give to you to determine the risk of lending you money. This where most immigrants get snagged. Most new immigrants don't have a credit history with American lenders and therefore have a low credit score and therefore won't be issued a mortgage. If they are issued a mortgage it will be at a higher interest rate or annual percentage rate (APR). Immigrants should start building credit soon after entering the country. Credit scores are ranked between 850 (perfect) and 300 (terrible). Try this site to discover your credit score.
Down Payment – this is the amount an immigrant pays in cash for the house. The colloquial norm is that lenders require at least 20 percent of the total price as a down payment. If an immigrant is able to pay more than 20 percent then the deal may be more enticing to the lender.
Ok, that was a lot of numbers, especially for an immigration blog. They'll make more sense after looking at an example. Let's consider the example of Carlos. He has an annual income of $50,000 and wants to buy a house and wants to know if he'll qualify for a loan.
He begins by calculating his front-end ratio.
Front-end ratio = Annual income * 0.35 / 12 months
So Carlos' front-end ratio is $1458. Then he calculates his back-end ratio.
Back-end ratio = Annual income * 0.36 / 12
A lender won't want to give to Carlos unless he has a DTI ratio of less 36 percent. Right now his back-end ratio cap is $1500. Let's say Carlos has expenses totaling $1000 each month, so he is in the clear. If he had $2000 in expenses then the lender would be unlikely to give him a loan.
Let's say Carlos has worked diligently for the last 8 years to build his credit. He now has a credit score of 760. This high of a score will put him in a great place to find the best loans. On the other hand, if he had only a 500 like many immigrants, he might only be able to obtain an FHA loan. Typically, a 620 should be able to qualify an immigrant for a mortgage.
Now comes the down payment. Carlos, again from working hard over the last 8 years, has saved up $100,000 for a down payment. Since he has a good credit score he'll be able to use this as a 20 percent down payment on a $500,000 house. He would then obtain a loan for the additional $400,000. If he didn't have such a good score, he could use it as a larger down payment on a less expensive house, like a 50 percent payment on a $200,000 house.
2. Know your rights
As I mentioned earlier, and I'll mention again, and I really can't overstate: immigrants suffer from systemic discrimination when it comes to buying a house. Housing and Urban Development is the government agency that oversees housing discrimination issues and resolves complaints.
The Fair Housing Act (FHA) is a law that makes it illegal for housing providers to refuse to rent or sell homes to people based on race, color, national origin, religion, sex, familial status, or disability. HUD will hunt down violators of this law and "vigorously pursue enforcement actions against them." As HUD points out "Housing discrimination is not only illegal, it contradicts in every way the principles of freedom and opportunity we treasure as Americans. HUD is committed to ensuring that everyone is treated equally when searching for a place to call home."
Some options aren't always protected under FHA, including: Owner-occupied buildings with no more than four units, single-family housing sold or rented without the use of a broker and housing operated by organizations and private clubs that limit occupancy to members.
The following acts are specifically banned:
Someone selling or renting out housing can't, on the basis of race, color, national origin, religion, sex, familial status, or disability,
Refuse to rent or sell housing
Refuse to negotiate for housing
Make housing unavailable
Otherwise deny a dwelling
Change terms, conditions or privileges of the deal
Provide different housing services or facilities
Lie to say that housing isn't available for inspection, sale or rental
Blockbust – persuade, for profit, homeowners to sell their property by suggesting that people of a particular race, etc. have moved into the neighborhood (blockbusting)
Deny access to any organization, facility or service related to the sale or rental of housing.
And in regards to mortgages, can't:
Refuse to make a mortgage loan
Refuse to provide information regarding loans
Impose different terms or conditions on a loan, such as different interest rates, points, or fees
Discriminate in appraising property
Refuse to purchase a loan
Set different terms or conditions for purchasing a loan
And In general, can't:
Threaten, coerce, intimidate or interfere with a deal
Make discriminatory statements in connection with the sale or rental of housing
Refuse to provide, discriminate in the terms or conditions of, or make discriminatory statements regarding homeowners insurance coverage for a dwelling because of discrimination based on the listed categories.
If you experience discrimination call the HUD office nearest you.
In short, it is important as an immigrant to know your rights in the US. You should also be on the lookout for predatory lending which often times includes unreasonable interest rates and terms.
3. Shop for a loan
Mortgages come in two primary forms: fixed-rate and adjusted-rate.
A fixed-rate mortgage is a traditional mortgage. They're usually for a 15- or 30-year term, which means the immigrant has 15 to 30 years to pay them off and the interest doesn't change even if the market rate changes. If market interest rates drop, then the immigrant can refinance the mortgage for a lower interest rate.
With an adjusted-rate mortgage, the interest rate is fixed for an initial term, but then it fluctuates with the market. This means the interest rates will be unpredictable, for better or for worse.
A typical interest rate is 4 percent.
Mortgages can be obtained from a variety of places.
Banks are the traditional place for mortgages. Although they offer a high quality of service, recognized name-brands, and competitive fees, big banks are usually the least friendly to immigrants and unique cases. Much of their decision-making process is automated and does not consider immigrants' unique situations.
Mortgage brokers specialize in mortgages. Because of this, they offer a large variety of loans, even for immigrants with bad credit. The flipside is they are more expensive. Mortgage brokers will have offices where you can meet face-to-face.
Online mortgage brokers provide all of their services online in text, which is often times preferable for non-native English speakers.
A traditional mortgage provider will likely request these documents:
Last two months of statements for all asset accounts (savings, retirement, brokerage, and checking)
Last two years' W-2 forms
Last two years' tax returns
Most recent month's pay stubs (your last two pay stubs if you are paid every two weeks and your last pay stub if you get paid monthly)
If you're self-employed, a year-to-date profit-and-loss statement
1099s for the last two years
Copy of driver's license
Copy of Social Security card
Of course, for new immigrants, providing these documents may not be an option. Some lenders will accept alternative documents to show credit history. This could include:
Rental history
Payment history for bills (utilities, gas, electric, water, cable TV, etc.)
Payment history for non-payroll-deducted medical, life, auto or renters insurance
Payment history for School tuition
Credit history from a foreign independent credit reporting agency
Written verification from foreign creditors, establishing a credit history.
This brings us to another important distinction: you don't need to be legal and documented to buy a home. Many undocumented immigrants own homes. 3.4 million of them to be precise. They either buy with cash or obtain ITIN mortgages.
An ITIN is an individual tax identification number. They are issued by the IRS for immigrants who need to file taxes but are ineligible for a Social Security Number. Some institutions specialize in providing ITIN loans. These loans usually come with a higher 7-8 percent interest rate.
To get an ITIN submit a Form W-7, Application for IRS Individual Taxpayer Identification Number to apply.
For an ITIN loan, an institution will require:
Government ID Card, Matricula Consular ID, or Passport
2 Years employment in the same or similar line of work (can be salaried or self-employed)
2 Years Tax Returns using their I-TIN number
Buyers must be an owner occupant
Minimum 20% down payment
To find a loan, try these immigrant friendly mortgage services:
Bank of the West offers loans for people without US credit.
Alterra Home Loans offers loans to people with low or no US credit.
Quontic Bank specializes in immigrant-friendly services, like loans for foreign nationals.
Guadalupe Credit Union provides ITIN loans to people in New Mexico.
The Latino Community Credit Union specializes in financing latino immigrants
Small local services can be more immigrant-friendly
FHA Loans are provided by some lending institutions. These are more friendly to people with bad credit (down to a 500), but not necessarily immigrants.
4. Shop for a home
Many Americans are using online websites that list available houses. Try one of these:
Zillow.com – Zillow is perhaps the most popular online listing site. It boasts more than 100 million listings.
Homes.com – Can connect you with local agents.
Realtor.com – Realtor.com updates its listings every 15 minutes. It has 4 million listings.
Try using this wishlist to determine what type of house you are looking for. Try using this checklist to take notes on the house.
5. Make an offer
In the US an offer for a home is usually negotiated. The buyer doesn't necessarily have to offer the listed price for the house. And the seller doesn't need to accept the initial offer from the buyer. The negotiation process can go back and forth for some time until the two parties agree on a price.
Try this guide to making an offer.Try this comprehensive home buyer's guide that is helpful for immigrants.
6. Get a home inspection
Home inspectors analyze the house to discover if there are any issues with it. Usually a home inspection costs between $300 to $600.
To judge the quality of the inspector check out online reviews with Angie's List, Yelp, or Google, ask for a sample report, and ask whether they are a certified professional.
Use home advisor can be a very helpful site for finding a quality inspector. Just type in your zip code to get started.
(Go here for more on inspectors.)
7. Shop for homeowners insurance
Homeowner's insurance will help pay for damage to your property if something unexpected happens like a fire or burglary.
You can use the insurance suggested by your lender or you shop for your own. You can try one of the major brands:
8. Close the deal
You're finally ready to go to sign the papers and close the deal. Congrats!
Remember these points:
Don't be afraid to ask lots of questions
Bring a trusted advisor who is able to understand all of the terminology.
English is a difficult language. Real estate transactions include financial and legal English, which is even difficult for native English speakers to understand.
Download and use this closing checklist: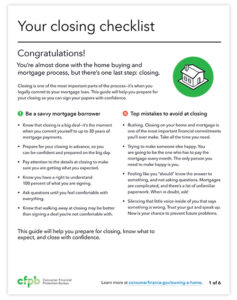 Enjoy your new home and the American Dream.