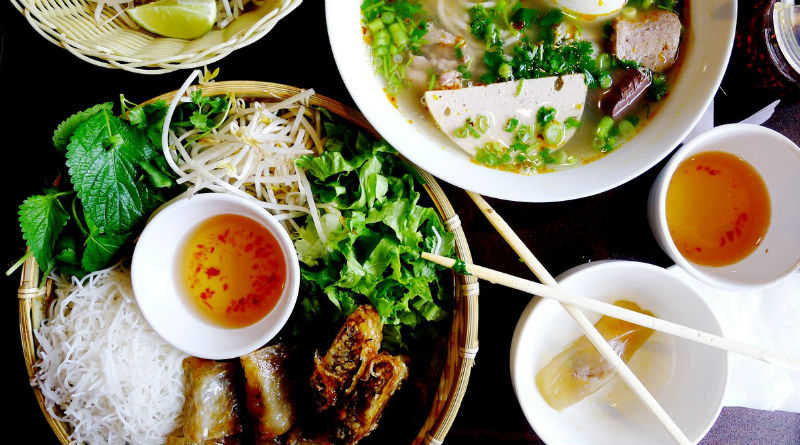 Immigrant communities throughout Los Angeles have increasingly become cultural destinations for locals and visitors alike. These no longer isolated communities — each with their own distinct cultural heritage and culinary palette — are hubs for some of the best food throughout the city.
In a sprawling city that is 503 square miles, it can be daunting to decide where to eat. From rich pho noodle soup to traditional Vietnamese street food, you don't have to travel far to find the flavors of Vietnam within the city limits. Here's a list of the top 10 Vietnamese restaurants in LA.
815 W Las Tunas Dr San Gabriel, CA 91776
One of the most iconic Vietnamese restaurants in Los Angeles, Golden Deli has been devoted to serving traditional Vietnamese cuisine since the 1980s. Golden Deli is number 1 on our list of the top 10 vietnamese restraurants in LA. Best known for their pho, this popular Vietnamese eatery has outgrown its strip mall parking lot and draws crowds every day of the week. Their chả giò, or crispy fried eggrolls filled with glistening pork are some of the best to be found in Los Angeles. Plan to wait at least half an hour for a table. But once you take that first sip of piping hot broth, you'll soon realize it was worth the wait. Its small sister shop, Saigon Flavor, is located a few blocks down the road but has become just as popular as Golden Deli, offering little reprieve for those looking to beat the long wait. Click here to check out Golden Deli's Yelp page.
Read Valia S.'s review of Golden Deli on Yelp
304 W Valley Blvd Alhambra, CA 91803
Located in a strip mall deep within the San Gabriel Valley, Bánh Mì My Tho serves one thing and one thing only — the traditional French Vietnamese sandwich known as the bánh mì. The small storefront becomes even cozier once you step inside. It is standing room only once you're inside Bánh Mì My Tho, and by standing room that means you take your order to-go. The menu consists of more than 20 bánh mì variations with straight-forward descriptions in English. Charbroiled meat, pickled vegetables, fresh herbs and other accouterment are filled inside a perfectly crisp French baguette. Some traditional desserts and pantry items are available for purchase. Bring cash, as this small shop is cash-only. Click here to check out Bánh Mì My Tho's Yelp page.
Read Amethyst G.'s review of Banh Mi My Tho on Yelp
2841 W Sunset Blvd Los Angeles, CA 90026
An unmarked storefront only to be recognized by locals who have visited hundreds of times, Pho Cafe is one of Silverlake's staples. The now densely populated artist community was a melting pot of cultural flavors long before it became inhabited with an influx of millennials and young professionals working in Hollywood. Tables are arranged in a long, narrow row that extends the length of the entire restaurant. At its opposite side, the large open kitchen extends the length of the restaurant, always bustling with busy line cooks to keep up with the high volume of guests. With an emphasis on local, seasonal ingredients and sustainable meats and seafood, Pho Cafe caters to both carnivores and vegetarians. The vegetarian pho is one of the best to be found anywhere in Los Angeles. A rich bowl of savory broth is graciously adorned with exotic mushrooms, bok choy and fried tofu. Click here to check out Pho Cafe's Yelp page.
Read Dawn M.'s review of Pho Cafe on Yelp
523 W 7th St Los Angeles, CA 90017
From the casual, sticky-tabled mom and pop noodle shops with paper placements to more rustic-refined interpretations of Vietnamese-inspired dishes, Los Angeles offers every end of the culinary spectrum. In the heart of Downtown Los Angeles, Little Sister shows a different iteration of traditional Vietnamese flavors. Tin Vuong, the chef and owner of Little Sister, reinvigorates Vietnamese cuisine by adding distinct nuances of flavors from Southeast Asia in a bistro-like setting. The seasonally-focused menu showcases Chef Tin's East-meets-West mentality, in which he executes well-composed Southeast Asian dishes with classic French techniques. A few dishes not to be missed: the Autumn Roll filled with sweet potato, jicama, egg, herbs and Chinese sausage; the Vietnamese Crepe with prawns, pork belly and bean sprouts; and Crispy Sweetbreads with chili oil and shaved tendons. Make reservations in advance to avoid the long wait. Click here to check out Little Sister's Yelp page.
Read Derek H.'s review of Little Sister on Yelp
9463 Garvey Ave Unit A South El Monte, CA 91733
Angelenos have been making the trek to Rosemead for more than a decade to indulge in the irresistibly rich pho broth at Pho Filet. Known for its northern-style pho with filet mignon, Pho Filet and now their spin-off, Pho Filet 2 offers Hanoi-style pho bac, which is claimed to be one of LA Times Food Critic Jonathan Gold's repeatedly favorite bowls of pho in the city. Click here to check out Pho Filet's Yelp page.
Read Kevin G.'s review of Pho Filet on Yelp
285 W Huntington Dr Arcadia, CA 91007
While it's not technically a restaurant, 626 Night Market is one of the most anticipated culinary food festivals in Los Angeles every year. This summer, hundreds of vendors will collectively gather to celebrate Asian heritage, notably through its cuisine. The annual event highlights many of Los Angeles' most celebrated Asian eateries. The culinary-curious can find delicious Vietnamese street food alongside Taiwanese, Japanese, Thai and more at the Night Market, which now takes place in the San Gabriel Valley, Orange County and Los Angeles annually. Click here to check out the 626 Night Market's Yelp page.
Read Mish S.'s review of 626 Night Market on Yelp
307 Lincoln Blvd Venice, CA 90291
Family owned and operated, Bánh Mì Venice has been named one of the best sandwiches in Los Angeles countless times. The no-fuss menu focuses on locally-sourced quality ingredients and baguettes baked fresh daily. This contemporary bánh mì shop divides their menu by protein: Wake (egg), Oink (pork), Moo (beef), Cluck (chicken) and Go Fish (fish) along with a Vegetarian/Vegan-friendly option. The caramelized pork belly with sautéed shallots, garlic and country pâté spread is one of the more traditional sandwiches. Cà ri gà, an organic chicken curry with coconut cream, lemongrass, kaffir lime and bay leaves is tenderly filled inside a fresh-baked baguette served with a side of house-made chili mayo. Click here to check out Bánh Mì Venice's Yelp page.
Read Jimmy C.'s review of Banh Mi. on Yelp
3133 Glendale Blvd Los Angeles, CA 90039
Located in Atwater Village, Viet Noodle Bar offers modern scratch-made noodle dishes in a minimalist setting. Different than most Vietnamese restaurants to be found throughout the city, Viet Noodle Bar pays homage to many of the traditional noodle dishes while turning them nouveau. The large portions are best enjoyed family style inside the bright and airy interior. Bun cha cá, a Northern Vietnamese specialty is served at Viet Noodle Bar by way of "Turmeric Fish Noodle" on the menu. Chunks of tender, cod-like fish river-caught in Vietnam is accented by dill, turmeric and peanuts. Each bite — silky, crunchy and luxurious — while it is still lesser known than its not too distant relative beef pho, is convincing on its own to return time after time. Click here to check out Viet Noodle Bar's Yelp page.
Read Val D.'s review of Viet Noodle Bar Atwater on Yelp
2055 Sawtelle Blvd Los Angeles, CA 90025
The family-run Nong Lá Cafe began in 2012 by a brother-sister duo, Elaine and Victor Phuong. The siblings brought on their mom, Khanh Phan as the creative force behind the food, bringing dishes that she grew up with to the restaurant's menu. Customers rave about the Bun Rieu, a fragrant lemongrass beef soup with vermicelli noodles, pork patty and beef topped with onions and fresh aromatic herbs. The Pate Cha bánh mì with Homemade Chicken Liver Pate & Vietnamese Meatloaf receives equally rave reviews and is delicious with the addition of a cage-free fried egg. Nong Lá Cafe is dedicated to creating their light, delicious broths without MSG and known for using quality ingredients, including free range chicken, cage-free eggs and filet mignon. Click here to check out Nong Lá Cafe's Yelp page.
Read Kay M.'s review of Nong La Cafe on Yelp
710 W 1st St Los Angeles, CA 90012
Adjacent to the Walt Disney Concert Hall in Downtown Los Angeles sits Âu Lạc, a plant-based Vietnamese restaurant catered towards the health conscious. The owner, Mai Nyugen started Âu Lạc in Fountain Valley with the desire to promote healthy eating to her community. Since 1997, Nyugen has been applying a plant-based twist on traditional Vietnamese cuisine at both restaurant locations. Click here to check out Âu Lạc's Yelp page.